The attorneys at Casey, Devoti & Brockland were blown away by the response to our paper goods supply drive to benefit St. Martha's Hall – a St. Louis-based shelter for abused women and their children.   Through the generous donations of clients, colleagues, family and friends – the firm was able to deliver over:
100 boxes of facial tissue
200 rolls of toilet paper
250 rolls of paper towels
As an extra incentive, our partners donated (4) tickets to a St. Louis FC soccer game to one lucky donor.  Congratulations to Robin P. – the winner of the ticket drawing.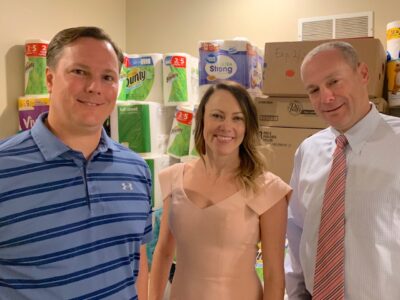 Partners Matt Casey, Anne Brockland and Matt Devoti – along with the shelter's development staff – want to thank everyone for participating in the supply drive.  These much needed supplies help offset the shelter's operating expenses, which allows them to continue helping women break the cycle of violence in their lives.
Casey, Devoti & Brockland is a long-time supporter of St. Martha's Hall.   Partner Matt Devoti previously served six years on the shelter's board of directors.  Over the past few years, the firm has sponsored several fundraising events, provided pro bono work, and organized several supply drives for much needed items.  The shelter serves about 150 women and children every year.  It takes a great deal of funding, donations and volunteer hours to support and house the shelter's clients.  Visit saintmarthas.org to learn more about this wonderful organization and additional ways you can help.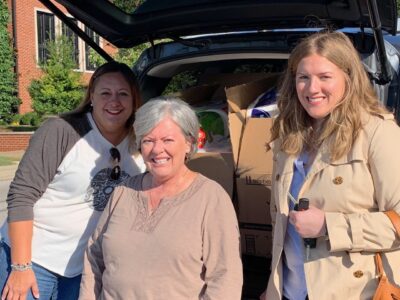 Casey, Devoti & Brockland is a St. Louis-based law firm focused exclusively on personal injury litigation.  Since 1983, our attorneys have helped injured people navigate the road to recovery by securing compensation for pain and suffering, medical expenses and lost wages.  Together Partners Matt Casey, Matt Devoti and Anne Brockland have nearly 50 years of trial experience handling the following personal injury matters:  car, truck and train crashes, victims of impaired and distracted driving, medical malpractice, birth injuries, product liability, premises liability, elder and sexual abuse, Workers' Compensation and wrongful death.  We proudly serve clients throughout metropolitan St. Louis, southeastern Missouri and southern Illinois.
Our highly accessible attorneys deliver the perfect balance of aggressive legal representation, compassion and personal service.   If you or a loved one have been injured by the negligence of another, call the office today for a free, no-obligation consultation: (314) 421-0763.
.