Electric Shock Drowning (ESD) is a real danger. The danger is invisible, but it may be lurking within water around docks and marinas.
Electricity used to power boats, dock lights and boat lifts can leak into water if not properly equipped, maintained and grounded. These leaks, caused by faulty electrical equipment, wiring and improper grounding, can emit enough current into the water to electrocute swimmers, boaters, and people on the dock. It only takes 10 milliamps of electricity (1/50th of the current used to power a 60-watt light bulb) to cause paralysis, rapid or irregular heartbeats, and even drowning.
This hazard can occur in fresh or salt water, but it's even more dangerous in fresh water lakes. This is because electricity always finds the path of least resistance – in fresh water lakes this means swimmers, because the human body is more conductive than the water.
While several electric shock drownings have occurred in recent years in Missouri lakes, it is difficult to track just how many people may have been victims of ESD. What's not reported are incidents of near misses, where people felt tingling and simply exited the water or a person drowns, but there are no witnesses – so authorities never know if an outside factor, such as ESD may have been the culprit.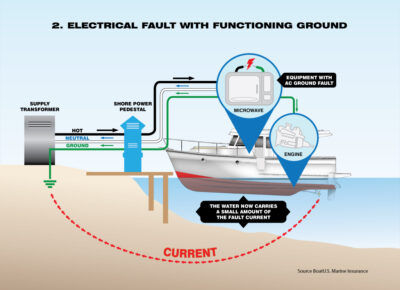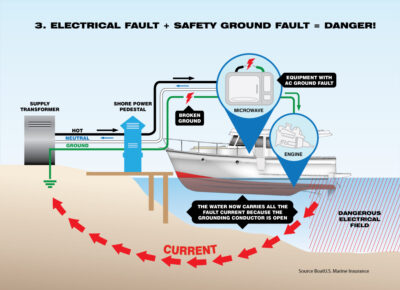 What to do if you suspect the water around a dock has become energized:
If you feel tingling while swimming around a dock, STOP and turn around.
Move AWAY from the dock.
DO NOT swim toward the dock or touch the dock ladder.
If possible exit the water from another boat dock.
Completely shut-off electricity to the dock.
If a swimmer is in trouble, turn off power to dock and assist with a non-conductive pole or life ring. Do not try to pull the person closer to the dock or jump in to assist. You will become a casualty.
Report the incident to the dock or marina owners immediately.
Ways to prevent Electric Shock Drowning:
Obey all 'NO SWIMMING' signs near marinas, docks or boatyards.
Tell others about the danger of Electric Shock Drowning. Most people have never heard of ESD and are unaware of the danger.
Boats and docks with alternating current (AC) systems should have isolation transformers or equipment leakage circuit interrupter (ELCI) protection, which are designed to shut off power if a leak is detected.
GFCI's should be installed on all shore power pedestals and on all marina wiring circuits.
Electrical connections and wiring on marinas and private docks should be installed, repaired and regularly inspected by qualified electricians who are familiar with National Fire Protection Association Codes: NFPA 303 and NFPA 70.
Boat owners should have their vessels inspected annually by an electrician with current ABYC (American Boat and Yacht Council) Electrical Certification.
Learn more about ESD through the Electric Shock Drowning Prevention Association's brochure:
Electric Shock Drowning Brochure
Casey & Devoti is a St. Louis-based personal injury law firm.  Together, Partners Matt Casey and Matt Devoti have nearly 40 years of trial experience handling a variety of personal injury matters, including:  car, truck and train accidents, victims of impaired and distracted driving, medical malpractice and birth injuries, product and premises liability, elder care and sexual abuse, Workers' Compensation, and wrongful death.  If you or a loved one have been injured by the negligence of another, contact our office today for a free, no-obligation consultation:  (314) 421-0763.