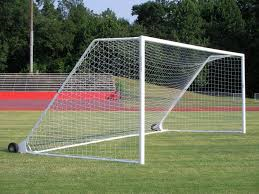 There are approximately 225,000 to 500,000 soccer goals in the United States. Many of these soccer goals are unsafe because they are unstable and are either unanchored or not properly anchored or counter-balanced. These movable soccer goals pose an unnecessary risk of tip over to children who climb on goals (or nets) or hang from the crossbar.
Since 1979, the U.S. Consumer Product Safety Commission (CPSC) has reports of at least 36 deaths and an estimated 120 injuries as a result of falling goals. Both homemade and professionally manufactured soccer goals are involved in these incidents.
The majority of movable soccer goals are constructed of metal, typically weighing 150-500 pounds. The serious injuries and deaths are a result of blunt force trauma to the head, neck, chest, and limbs of the victims. In most cases this occurred when the goal tipped or was accidentally tipped onto the victim. High winds can also cause movable soccer goals to fall over.
To help prevent deaths and injuries associated with soccer goals, the CPSC recommends these safety guidelines:
• Securely anchor or counter-weight movable soccer goals at all times.
• Never climb on the soccer net or goal framework.
• Always instruct soccer players on the safe handling of and potential dangers associated with movable soccer goals.
• Use movable soccer goals only on level (flat) fields.
• Check all connecting hardware before every use. Replace damaged or missing fasteners immediately.
• Ensure safety labels are clearly visible.
• Remove nets when goals are not in use.
• Anchor or chain goals to nearby fence posts, dugouts or similar sturdy fixtures when not in use.
• Fully disassemble goals for seasonal storage.
For over 30 years, Casey & Devoti has diligently protected the rights of its clients with honesty and integrity.  Matt Casey and Matt Devoti have extensive trial experience representing clients in matters such as, automobile, truck and train accidents, medical and legal malpractice, product and premises liability, elder care and sexual abuse, Workers' Compensation and wrongful death.  Casey & Devoti proudly serves the greater St. Louis metropolitan area, southeastern Missouri and southern Illinois.