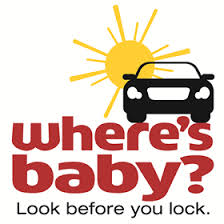 An average of 37 kids die from being left in a hot car each year in the U.S.  In 2018, 52 hot car deaths were recorded – the highest number in the last 20 years.   In some cases, these deaths occur on relatively mild days with temperatures only in the 70s.
These unimaginable tragedies can happen to anyone – from any walk of life. Most hot car deaths are completely unintentional, with the child unknowingly left in the car or the child getting into the car on their own. Situations in which kids get hurt in hot cars include:
Infants and toddlers are simply forgotten in their car seat
Infants and toddlers are intentionally left in a hot car
Toddlers or preschoolers sneak into the car to play and can't get out
Kids get trapped in the trunk
The Danger of a Hot Car for a Baby or Child
According to the National Highway Traffic Safety Administration, "a locked car sitting in the summer sun quickly turns into an oven," and, "temperatures can climb from 78 F to 100 F in just three minutes, to 125 F in 6-8 minutes."  At those temperatures, kids are at great risk for heat stroke, which can lead to a high fever, dehydration, seizures, stroke, and death.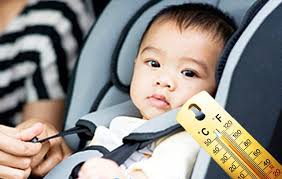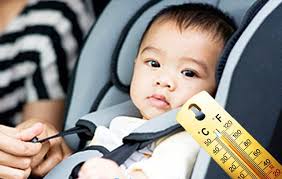 Hot Car Safety Tips
To keep your kids safe:
Look Before You Lock: Make it a habit to check the back seat each time before you lock the door, even if you aren't transporting your child. Doing this every time will instill the habit.
Place a small toy or colorful note in your child's car seat when it's empty. Move it to your dashboard when you place your child in the car seat. This will help remind you that you have a child in the back seat.
Get your kids out of the car first, and then worry about getting groceries or other items.
Always lock your car and secure the keys so your kids don't have access to them.
Don't allow kids to play in parked cars.
Install a trunk release mechanism, so that they can't get trapped in the trunk.
Make sure child care providers and daycare workers have a plan to ensure kids are not left in transport vehicles.
Apps and sensor devices have been developed, but they should only be used in addition to developing habits that will help prevent these tragedies.
Kids in Cool Cars Also at Risk
The danger of being left alone isn't limited to kids getting overheated. Simply leaving the car running and the air conditioning on doesn't make your child any safer, even if it is just for a few minutes. Your child might be abducted, put the car into drive, or even get caught in a closing power window. Don't leave your kids alone in the car. It just isn't safe. Besides, 20 states have laws against leaving children unattended in vehicles.
Casey, Devoti & Brockland is a St. Louis-based law firm focused exclusively on personal injury litigation.  Since 1983, our attorneys have helped injured people navigate the road to recovery by securing compensation for pain and suffering, medical expenses and lost wages. Together Partners Matt Casey, Matt Devoti and Anne Brockland have nearly 50 years of trial experience handling the following personal injury matters: car, truck and train crashes, victims of impaired and distracted driving, medical malpractice, birth injuries, product liability, premises liability, elder and sexual abuse, Workers' Compensation and wrongful death.  We proudly serve clients throughout metropolitan St. Louis, southeastern Missouri and southern Illinois.
Our highly accessible attorneys deliver the perfect balance of aggressive legal representation, compassion and personal service.   If you or a loved one have been injured by the negligence of another, call the office today for a free, no-obligation consultation: (314) 421-0763.