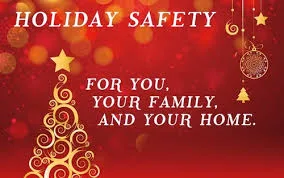 According to the National Home Fire Protection Association, each year 860 home fires are caused by holiday decorations and another 210 fires are caused by Christmas trees. Follow these steps to ensure you decorate your home safely for the holidays:
Inspect all lights, decorations, power strips and extension cords for damage before use.
Only use electrical decorations and extension cords for their designated purpose – indoor only indoors and outdoor only outdoors.
Purchase electrical decorations for reputable retailers and make sure they are approved by a nationally recognized testing lab such as UL (Underwriters Laboratory), ETL (Intertek), or CSA (Canadian Standards Association).
Never hang light strands or electrical cords with staples, nails or tacks.
Avoid overloading electrical outlets with too many devices.
Do not connect more than 3 strings of incandescent lights together.
All outdoor electrical decorations and lights should be plugged into outlets protected by GFCIs (ground fault circuit interrupters).
Turn off all indoor and outdoor electrical decorations and lights before leaving home or going to bed.
Exercise caution when decorating around power lines. Keep yourself and your equipment at least 10 feet away from power lines.
Keep all decorations at least 3 feet away from heating equipment or an open flame.
Be sure to water a live tree daily to prevent it from drying out.
Matt Casey and Matt Devoti wish everyone a happy and safe holiday season.  If you or a loved one has been injured by the negligence of another, Matt and Matt can help.   As always, they offer a free, no-obligation consultation in order to review your specific circumstance.  Call today to schedule your appointment.