The Fourth of July holiday is synonymous with fireworks. As we approach the holiday, it's important to remember that fireworks are dangerous and can cause serious burns and eye injuries.   Always celebrate safely and follow commonsense firework safety tips.
With consumer spending on the upswing, the last few years have brought record sales of fireworks and, unfortunately, a record number of injuries. In 2015, 11 people died using fireworks and a whopping 11,900 were taken to the hospital with firework-related injuries.
Of the 11 deaths, nine involved people misusing re-loadable fireworks, often trying to hold them when they fired, either on their head or in their hands.
The other two deaths involved homemade fireworks, which are often packed with more explosive power than is allowed under law.
Teenagers ages 15 to 19 had the highest rate of injuries, followed by children ages 5 to 9.
Hands and fingers were the most-injured body parts (46 percent); followed by head, face, eyes and ears (17 percent); legs (11 percent); and arms (4 percent).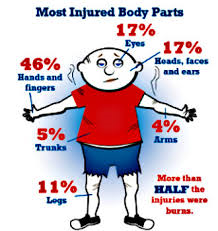 A professional display is the safest way to enjoy fireworks. If you decide to set off your own fireworks, please follow these safety tips outlined by the U.S. Consumer Product Safety Commission:
Never allow young children to play with or ignite fireworks.
Avoid buying fireworks that are packaged in brown paper because this is often a sign that the fireworks were made for professional displays and that they could pose a danger to consumers.
Always have an adult supervise fireworks activities. Parents don't realize that young children suffer injuries from sparklers. Sparklers burn at temperatures of about 2,000 degrees – hot enough to melt some metals.
Never place any part of your body directly over a fireworks device when lighting the fuse. Back up to a safe distance immediately after lighting fireworks.
Never try to re-light or pick up fireworks that have not ignited fully.
Never point or throw fireworks at another person.
Keep a bucket of water or a garden hose handy in case of fire or other mishap.
Light fireworks one at a time, then move back quickly.
Never carry fireworks in a pocket or shoot them off in metal or glass containers.
After fireworks complete their burning, douse the spent device with plenty of water from a bucket or hose before discarding it to prevent a trash fire.
Make sure fireworks are legal in your area before buying or using them.
For more information on how to safely handle fireworks, visit the National Fireworks Association or the American Pyrotechnics Association.  Matt Casey and Matt Devoti wish everyone a happy and safe Fourth of July holiday.
Casey & Devoti is a St. Louis-based personal  injury law firm.  Together Matt Casey and Matt Devoti have nearly 40 years of trial experience.   They handle a variety of personal injury matters, including:  car, truck and train accidents, victims of impaired and distracted driving, medical malpractice and birth injuries, product and premises liability, Workers' Compensation, and wrongful death.  If you or a loved one have been injured by the negligence of another, contact our office for a free, no obligation consultation:  (314) 421-0763.