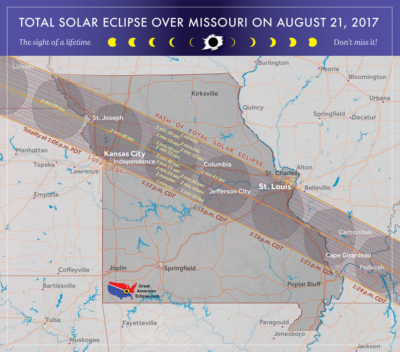 On Monday, August 21st the much-anticipated Solar Eclipse will take place. The 70-mile wide path of 'TOTALITY' will cut diagonally through the state of Missouri – from St. Joseph to Cape Girardeau.
With the eclipse of the century racing across the sky on Monday – people are advised to take extra precautions when driving. First, be aware that traffic in your area may be congested and there may be more pedestrian on the roads. With these things in mind, AAA has issued a list of tips to help you stay safe, whether you're driving through the darkness or pulling over to gaze in awe at this once-in-a-lifetime event:
Don't let the eclipse become the ultimate distraction when driving!
-Exit your vehicle and the roadway to view the eclipse.
-Do NOT stop along the highway or interstate or park your car on the shoulder of the road.
-Keep headlights on – don't rely on automatic headlights.
-Do NOT wear eclipse glasses while driving.
-Do NOT try to photograph or video the eclipse while driving.
-Be mindful of pedestrians who may be walking along roads with their eyes on the sky.
-Prepare for extra congestion on the roads during the eclipse period, but also in the days before and after the eclipse as many travelers head to the totality zone.
-Have your viewing location set and stay in place, avoiding travel during the eclipse.
AAA also offers some handy advice for those heading out of town to get closer to the 70-mile wide path of totality, where the sun will be most obscured by the moon.
-Try to get to your viewing location one to two days ahead of the eclipse.
-With many hotels, motels and campgrounds in the path of 100 percent eclipse totality booked for -months, consider other nearby locations, a short drive to where you'd like to view the eclipse from. A travel agent or online travel booking resource, such as those from AAA, can help you locate a hotel with vacancy.
-Pack your patience and plan for congestion on the roads, especially as you get closer to locations within the path of totality.
-Keep up to date on weather conditions – if you find your original location may be cloudy/rainy, consider moving to another location.
-Don't forget approved, safe eye protection for viewing the eclipse.
Casey & Devoti is a St. Louis-based personal injury law firm. Together Partners Matt Casey and Matt Devoti have nearly 40 years of trial experience.  They handle a variety of personal injury matters, including:  car, truck and train accidents, victims of impaired and distracted driving, medical malpractice and birth injuries, product liability, slips/trips/falls, elder care and sexual abuse, Workers' Compensation, and wrongful death.  Matt and Matt proudly serve clients throughout metropolitan St. Louis, southeastern Missouri and southern Illinois.  If you or a loved one have been injured by the negligence of another, call the office today for a free, no-obligation consultation: (314) 421-0763.