B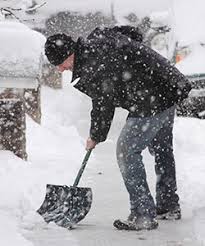 omb Cyclone, Snowmageddon, Snowpocalypse, the Polar Vortex
Whatever you call it – it's still just a really big snowstorm.
But with really big snow storms – and even everyday, run-of-the-mill snowfalls – comes a risk of death by shoveling. Nationwide, snow shoveling is responsible for thousands of injuries and as many as 100 deaths each year.
So, why so many deaths? Shoveling snow is just another household chore, right?
Not at all, says Harvard Health Executive Editor Patrick J. Skerrett.
"Picking up a shovel and moving hundreds of pounds of snow, particularly after doing nothing physical for several months, can put a big strain on the heart," says Skerrett.
Cold weather can increase heart rate and blood pressure. It can make blood clot more easily and constrict arteries, which decreases blood supply. This is true even in healthy people. Individuals over the age of 40 or who are relatively inactive should be particularly careful.
National Safety Council recommends the following tips to shovel safely.
Do not shovel after eating or while smoking
Take it slow and stretch out before you begin
Shovel only fresh, powdery snow; it's lighter
Push the snow rather than lifting it
If you do lift it, use a small shovel or only partially fill the shovel
Lift with your legs, not your back
Do not work to the point of exhaustion
Don't pick up that shovel without a doctor's permission if you have a history of heart disease. If you feel tightness in the chest or dizziness, stop immediately. A clear driveway is not worth your life.
Casey & Devoti is a St. Louis-based personal injury law firm. Together Partners Matt Casey and Matt Devoti have nearly 40 years of trial experience.  They handle a variety of personal injury matters, including:  car, truck and train accidents, victims of impaired and distracted driving, medical malpractice and birth injuries, product liability, slips/trips/falls, elder care and sexual abuse, Workers' Compensation, and wrongful death.  Matt and Matt proudly serve clients throughout metropolitan St. Louis, southeastern Missouri and southern Illinois.  If you or a loved one have been injured by the negligence of another, call the office today for a free, no-obligation consultation:  (314) 421-0763.