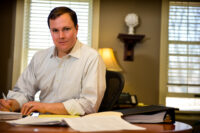 Legal Blog post by Partner Matt Casey
What should I do after a serious car accident?
A deadly car crash over the weekend in St. Louis that killed three young men is a sad reminder of how quickly your life or the lives of your family can be turned upside down.  For many people, a serious crash is one of the most stressful and confusing events they will ever endure.  There can be painful and debilitating injuries that may require multiple surgeries and months of rehabilitation.  And, in the case of this recent accident, there can be the painful shock and heartbreak of losing a loved one in the prime of their life.
I recommend the following advice to improve the chances of recovering full and fair compensation for any injuries or losses sustained in a car crash:
Seek professional legal advice
Gain control of the situation, don't allow the circumstances to take control.
The best first step to gaining control is to choose an experienced car accident lawyer. Most car accident personal injury cases, even minor ones, become very complex when you factor in the number of individuals involved, multiple insurance companies and multiple attorneys.  A seasoned trial lawyer knows how to handle car accident personal injury claims.  They will sort through a complicated accident, do the necessary investigations, complete and file the required paperwork, and aggressively pursue the liable parties to get you the compensation you deserve.
Other important steps
Get medical treatment. Seeking help for any injuries that you, your passengers and the other driver may have suffered should be your top priority after an accident. You might not think you have any medical issues immediately following a collision, but some injuries take time to develop. You should see a doctor soon after the car accident to make sure you haven't sustained any health problems due to the crash – even if you think you don't need emergency medical treatment. Be sure to describe all of your symptoms.
Report the accident to the police. Whether you are a victim or may be at-fault for the accident, always report the accident to the police. Be prepared to answer questions, show your driver's license, registration and proof of insurance. Be skeptical if the other driver offers to settle the accident without calling the police.
Get contact and insurance information from all drivers involved. This information is crucial if you file a claim against the responsible party for compensation down the road. If you are unable to gather the information yourself, make sure the police or someone else does it for you.
Get witness statements. Besides you and other drivers, there could be other eyewitnesses to the car accident. Be sure to get their contact information and their statements. Their testimony could be key if there is a dispute over who ran a traffic light, for example.
Don't admit fault. Your natural inclination might be to admit that you were wrong and apologize. Do not admit fault. All of the facts are not clear in the confusing aftermath of a car crash. It's more prudent to allow an experienced personal injury lawyer determine which parties are at fault.
Take pictures. Use your cell phone or other camera to take detailed photos of your car and the accident scene from different angles. Close-up pictures and wide shots that provide a comprehensive overview as to what happened may provide strong evidence for your case.
Notify your insurance company. Your insurance company needs to be informed of your accident as soon as possible. If you neglect to make this call, you could reduce your chances of making a claim for damages. However, make sure that you don't offer any recorded or written statements until you have consulted with a qualified lawyer.
Don't accept a quick-settlement offer. The at-fault driver's insurance adjuster may offer you a quick, low-ball settlement offer. Don't accept any offers until you consult with a personal injury attorney. The offer will most likely be less than what you deserve. And, don't sign any paperwork given to you by the other driver's insurer.
Keep a record of all receipts and documents related to the accident. Paperwork can pile up after an accident. Don't throw these documents away. The police report, receipts, medical bills, and any other documents that are related to the collision could help you in an accident claim. Get a folder and collect every document that has even the smallest connection to your collision.
Keep a journal. It is very easy for your memory to slip away as time passes. Take daily notes about your recovery and how your injuries have affected your life. This could be very useful information if you have to recount the incident and its aftermath in any detail to investigators, insurance adjusters or the court system. Also keep track of how much time you have lost from work.
Don't delay seeking legal help. Missouri has a five-year statute of limitations for personal injury clams, while Illinois requires you to file suit within two years. Although certain circumstances can give you more time to file, it is important that you don't give up your right to recovery by waiting too long.
Matt Casey is a partner with Casey & Devoti, a St. Louis-based personal injury law firm.  He handles a variety of personal injury cases, including:  automobile, truck and train accidents, medical and legal malpractice, product and premises liability, elder and sexual abuse, Workers' Compensation, and wrongful death.  Matt and his law partner, Matt Devoti, are also authorized speakers for EndDD.org's 'End Distracted Driving' Student Awareness Program.