Since 2015, many brands of hoverboards have been the subject of various warnings and recalls. The Consumer Product Safety Commission (CPSC) has been on the frontlines in warning the public of the risks hoverboards pose from overheating fires.
CPSC is aware of more than 250 self-balancing scooter/hoverboard incidents where the battery overheats and/or explodes during the charging process. In March 2017, a 2-year-old girl and a 10-year-old girl died in a house fire ignited by a hoverboard in Harrisburg, Pennsylvania.  In addition, the CPSC reports of 13 burn injuries, three smoke inhalation injuries and more than $4 million in property damage related to hoverboards.
But, my kid really wants a hoverboard – what can I do to stay safe?
If you choose to buy a hoverboard this holiday, the CPSC recommends taking these steps to reduce the risk of fire:
Use only chargers supplied with the hoverboard.
Only charge a hoverboard when you are there to watch it. Do not charge unattended, especially overnight.
Keep away from flammable items while charging or even storing your hoverboard.
Check for recalls. Go to: www.CPSC.gov/recalls to see if the hoverboard brand has been recalled.
Have working smoke alarms and fire extinguishers on every level of your home, outside sleeping areas and inside each bedroom.
Report incidents involving hoverboards overheating, smoking, or fire to CPSC at www.Saferproducts.gov.
Hoverboards should be compliant with the UL 2272 safety standard. However, even UL 2272 compliance cannot guarantee that a hoverboard will not overheat or catch fire.
How can you tell if your hoverboard is UL 2272 compliant?
Look for a certification mark for self-balancing scooters or personal e-Mobility (aka hoverboards) on the front of the packaging and the holographic certification label with the Enhanced Mark on the bottom of the product. These labels are your indication that you have a genuine compliant product. The following example is one of a UL certification label: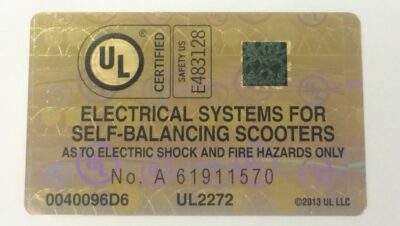 If you bought your hoverboard before January 29, 2016 then your hoverboard is not UL 2272 compliant.
Buy from a reputable source. If the price seems significantly lower than other hoverboards, the unit may not be UL 2272 compliant.
Never purchase a hoverboard from a kiosk, a secondhand seller, or an online retailer without proof that the hoverboard is compliant with the UL 2272 safety standard.
Many sellers/retailers claim to have UL-compliant battery packs, chargers or other components, but this does not mean they are UL 2272 compliant. UL 2272 covers the entire hoverboard unit, not just individual parts.
If you are still unsure if the hoverboard is UL 2272 compliant, ask questions. Ask the seller/retailer to provide you with documentation of compliance with UL 2272 for the entire product.
Casey & Devoti is a St. Louis-based personal injury law firm. Together Partners Matt Casey and Matt Devoti have nearly 40 years of trial experience.  They handle a variety of personal injury matters, including:  car, truck and train accidents, victims of impaired and distracted driving, medical malpractice and birth injuries, product liability, slips/trips/falls, elder care and sexual abuse, Workers' Compensation, and wrongful death.  Matt and Matt proudly serve clients throughout metropolitan St. Louis, southeastern Missouri and southern Illinois.  If you or a loved one have been injured by the negligence of another, call the office today for a free, no-obligation consultation:  (314) 421-0763.