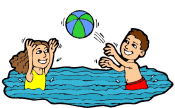 Even though the July 4th holiday has passed, there is still a lot of pool time left this summer.  Parents and families are urged to review and practice proper water safety steps to assure a safe and fun experience, because you can never know which one might save a child's life—until it does.
The Consumer Product Safety Commission (CPSC) reports that nearly 400 children under the age of five drown in a pool or spa each year.  Children between the ages of 1 and 3 and African-American children between the ages of 5 and 19 are most likely to drown, according to the Centers for Disease Control and Prevention.
Pool Safely is a national public education effort to reduce child drownings, near-drownings and entrapments in swimming pools and spas.  CPSC reminds all families to take the following steps to ensure that their time at the pool is safe for everyone:
CPSC's Top Tips to Stay Safe Around the Pool or Spa This Summer
Never leave a child unattended in or near a pool or spa. Designate a Water Watcher to supervise children around pools and spas. This person should not be reading, texting, using a smart phone, having an intense conversation or be otherwise distracted. Adults can take turns being the designated Water Watcher.
The Centers for Disease Control and Prevention recommends "in touch" supervision, meaning the Water Watcher is close enough to touch that young child in an instant.
Teach children basic water safety tips.
If a child is missing, look for him or her in the pool or spa first.
Keep children away from pool drains, pipes and other openings to avoid entrapments.
Ensure any pool and spa has drain covers that comply with federal standards.
Learn how to swim and teach your child how to swim.
Learn how to perform CPR on children and adults, and update those skills regularly.
Pool fencing should meet standards for height and for non-climbable height. The fence should be a minimum of 4-feet and the design should not include foot support for at least 40 inches of vertical space. (the average 3 year old can climb a 4-foot chain link fence)
Install and use a lockable safety cover on spas.
Have lifesaving equipment such as life rings, floats or a reaching pole available and easily accessible.
Drowning is silent. Kids don't yell for help. They don't make a big splash. They lose control and go down, and if no one sees them, they stay down. Don't assume the lifeguard at a public pool is watching your child. Remember most hotel/motel pools don't have lifeguards.
In the event, a child slips and is under water long enough to have a change in alertness or need help with coughing or breathing, he or she may need medical evaluation and 12 to 24 hours of observation.