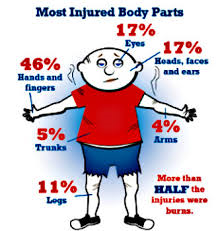 Fireworks on the Fourth of July are as American as apple pie.  Despite repeated safety warnings, each year many Americans suffer devastating injuries caused by fireworks – including severe burns, disfigured hands and facial injuries.
Additionally, fireworks are also the main cause of the majority of fires reported on the July 4th holiday.
Fireworks by the numbers
In 2013, there were 8 deaths and an estimated 11,400 consumers injured by fireworks. This is an increase from 8,700 injuries in 2012.
The risk of fireworks injury was highest for young people ages 15-24, followed by children under 10.
In 2013, children younger than age 5 had a higher estimated per capita injury rate than any other age group. Consumers often allow small children to handle sparklers and bottle rockets because they are perceived to be less powerful. In 2013, sparklers and rockets accounted for more than 40% of all estimated injuries.
55% of emergency room fireworks-related injuries were to the extremities and 31% were to the head. Injuries were caused by igniting fireworks while holding the device, devices that malfunctioned and had errant flight paths, tip overs and blowouts.
In 2013, fireworks caused an estimated 17,800 reported fires, including 1,200 total structure fires, 400 vehicle fires, and 16,300 outside and other fires.
The internet has exploded with illegal firework sales. These devices are dangerous because they are cheaply made and tend to have shorter wicks. People are buying cheap fireworks online and then using the internet to learn how to manipulate the devices to make them bigger, louder and more powerful. In fact, firefighters in the City of St. Louis have already seen evidence of this trend in the past few weeks.  Click here to read an article published by the St. Louis Post-Dispatch.
The absolute safest way to enjoy the holiday is to skip purchasing consumer fireworks and leave the fireworks displays to the professionals.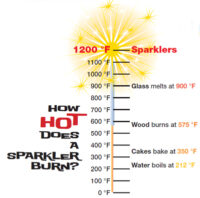 Consumers who decide to purchase legal fireworks are urged to take the following safety precautions:
Make sure the fireworks you want to buy are legal in your area before buying or using them.
Never allow young children to play with or ignite fireworks, including sparklers – which burn at temperatures of about 2,000 degrees.
Always have an adult close by to supervise fireworks activities if older children are allowed to handle devices.
Never place any part of your body directly over a fireworks device when lighting the fuse. Light fireworks one at a time, then back up to a safe distance immediately after lighting fireworks.
Keep a bucket of water or a garden hose handy in case of fire or other mishap.
Never try to relight or handle malfunctioning fireworks. Soak them with water and throw them away.
Never point or throw fireworks at another person.
Never carry fireworks in a pocket or shoot them off in metal or glass containers.
After fireworks complete their burning, douse the spent device with plenty of water from a bucket or hose before discarding the device to prevent a trash fire.
ATF encourages the public to report the manufacture or sale of illegal fireworks to your local law enforcement agencies or to the ATF hotline at 1-888-ATF-BOMB (1-888-283-2662).
However you celebrate, please have a happy and safe July 4th holiday!