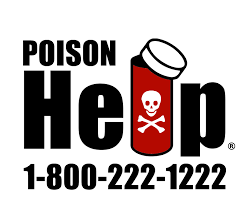 March 18-24, 2018 is National Poison Prevention Week
National Poison Prevention Week was established by the U.S. Congress in 1961 to focus national attention on the dangers of poisonings and how to prevent them.  The two most important things to remember are:
Prevention is key.
 In case of a poison emergency, call the Poison Help Line 800-222-1222.   It will automatically connect to your local poison center. Keep the Poison Help Line number posted in a visible place in your home and save it into your cell phone.  Remind loved ones to save the number into their cell phones.
Poison Prevention Tips
According to the American Association of Poison Control Centers, approximately 90 percent of poisonings happen at home, and 51 percent of poisonings involve children under the age of 6.  Most fatal poisonings occur among adults, especially older adults.  Follow these tips to prevent accidental poisonings:
Store medications in a locked cabinet in the original packaging with the label and safety cap securely fastened.
Never call medicine 'candy' – this can be confusing to children.
Keep poisons in the containers they came in. Do not use food containers (such as cups or bottles) to store household cleaners and chemicals.
Always store away from food.
Read and follow the directions for use of products and their disposal.
Never mix chemicals, household cleaners or detergents. Doing so can create a poisonous gas.
Turn on fans and open windows when using chemicals or household cleaners.
When spraying chemicals, direct spray nozzle away from people and pets.
Even in small amounts, windshield wiper fluid is poisonous. If swallowed, it can cause blindness or death to people and pets.
Chemicals, such as drain openers, toilet cleaners, rust removers, and oven cleaners can burn the skin.
Liquids made from petroleum, such as gasoline, kerosene, charcoal lighter fluid, paint thinner, baby oil, lamp oil, and furniture polish, are poisonous. Even a small amount can cause breathing problems.
In Case of Poisoning
If the person is not breathing, call 911.
If the person inhaled poison, get him or her fresh air right away.
If the person has poison on the skin, take off any clothing the poison touched. Rinse skin with running water for 15 to 20 minutes.
If the person has poison in the eyes, rinse eyes with running water for 15 to 20 minutes.
Do not use activated charcoal when you think someone may have been poisoned.
When In Doubt, Call Poison Help Line (800) 222-1222
Do not wait for signs of poisoning before calling Poison Help Line.
Stay calm. Not all medicines, chemicals, or household products are poisonous.
Make sure to have the container of the product you think caused the poisoning nearby. The label has important information.
Be Prepared to Answer (if possible)
The exposed person's age and weight
Known health conditions or problems
The product involved
How the product contacted the person (for example, by mouth, by inhaling, through the skin, or through the eyes)
How long ago the poison contacted the person
What first aid has already been given
Whether the person has vomited
Your exact location and how long it would take you to get to a hospital
To learn more about ways to keep people of all ages safe and help prevent poisonings, visit the Poison Help website.
Casey & Devoti is a St. Louis-based personal injury law firm. Together Partners Matt Casey and Matt Devoti have nearly 40 years of trial experience.  They handle a variety of personal injury matters, including:  car, truck and train accidents, victims of impaired and distracted driving, medical malpractice and birth injuries, product liability, slips/trips/falls, elder care and sexual abuse, Workers' Compensation, and wrongful death.  Matt and Matt proudly serve clients throughout metropolitan St. Louis, southeastern Missouri and southern Illinois.  If you or a loved one have been injured by the negligence of another, call the office today for a free, no-obligation consultation:  (314) 421-0763.