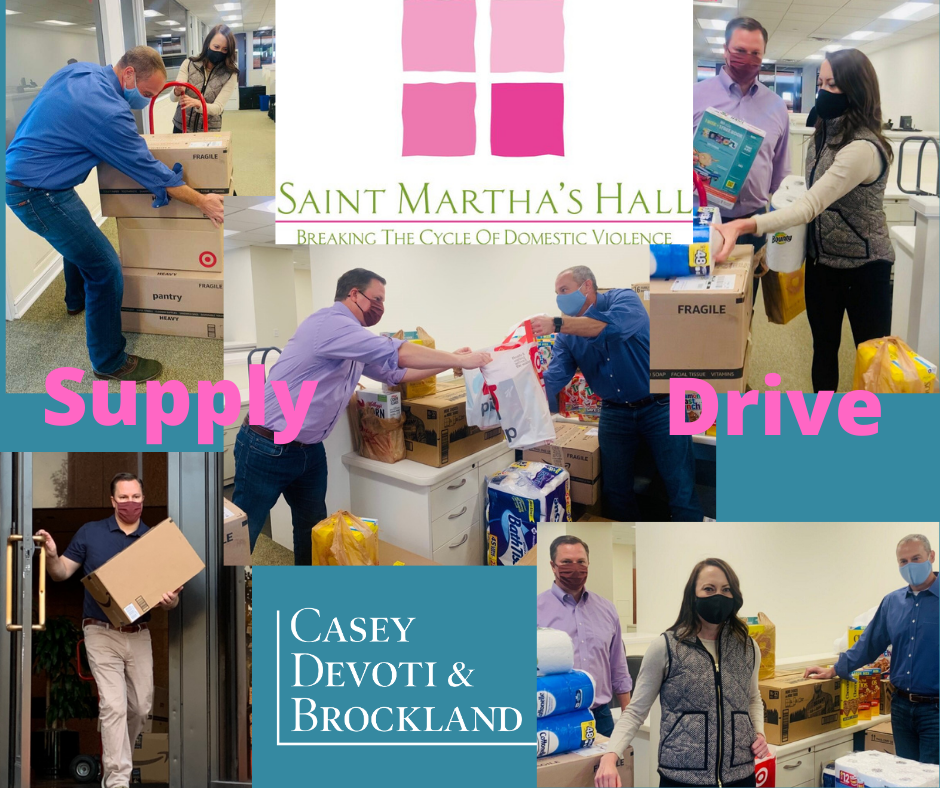 Since March, calls to domestic abuse crisis hotlines have increased forty-four percent nationwide.  Local domestic abuse shelter, St. Martha's Hall, has seen a dramatic jump in calls and the need for emergency shelter services.
Increased need, mandatory shutdowns and supply chain shortages have created new challenges for the shelter, which relies heavily on monetary and in-kind donations.
Casey, Devoti & Brockland did not hesitate to put out the call to their network of clients, colleagues, family and friends – to help the shelter stock-up on shelf stable staples, such as toilet paper, paper towels and cereal.
"The shelter always needs donations, but this year has been especially tough.  We were critically low on paper goods and these items are in high-demand due to the pandemic. Casey, Devoti & Brockland came through in a big way," said Jessica Woolbright, St. Martha's Hall Executive Director.  "We cannot thank them enough for their help during this extremely challenging year."
The firm's partners, along with J. Devoti Trattoria, offered an incentive for donors by giving away a $200 'Taste of the Hill' restaurant gift card package.  We're happy to congratulate Todd K. of Wildwood as the lucky winner of our tasty prize package.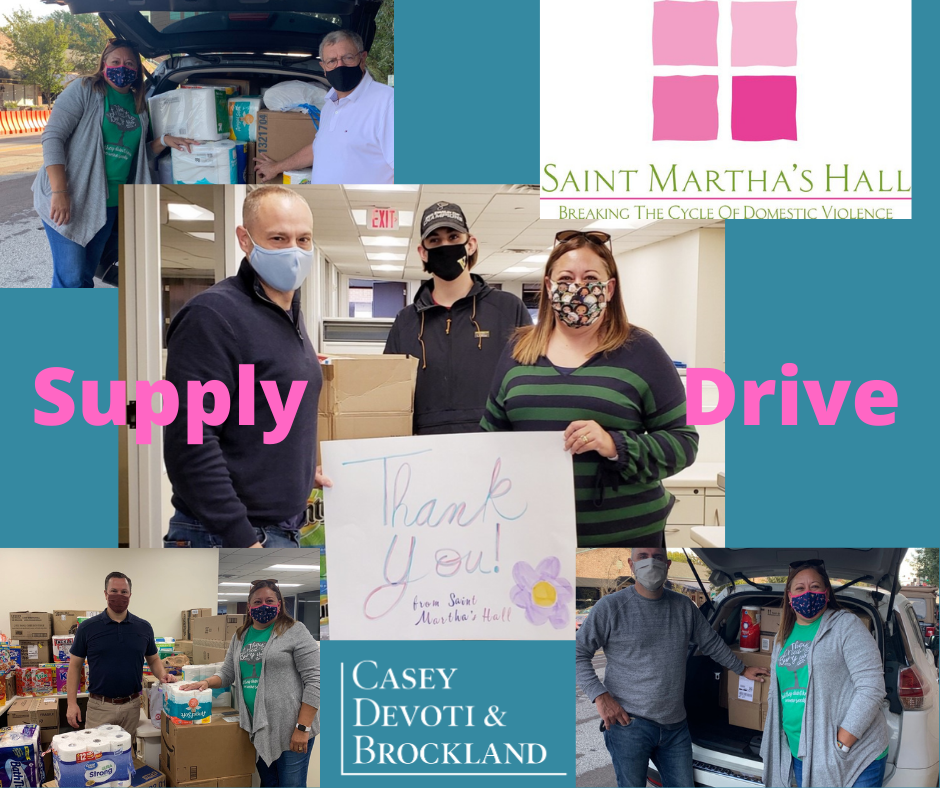 Through the generous donations of clients, colleagues, family and friends – the firm was able to deliver over 50 boxes of cereal, 100 rolls of paper towels and 200 rolls of toilet paper.  These types of donations help offset the shelter's operating expenses, so they can continue to help women break the cycle of violence in their lives.
Casey, Devoti & Brockland has been a long-time supporter of St. Martha's Hall since Partner Matthew Devoti joined the shelter's Board of Directors in 2012.  While Matt's time on the Board ended in 2018, the firm has continued to support the shelter by providing pro bono legal and marketing services, sponsorships for fundraising events, and hosting supply drives.
About St. Martha's Hall
St. Martha's Hall helps women and their children break the cycle of violence in their lives by offering safe, confidential shelter and a variety of support services.  The shelter serves about 150 women and children each year by providing physical shelter, as well as crisis intervention, individual and group counseling, advocacy programs, resource and referral networks, and community education.
St. Martha's Hall is always looking for individuals to donate their money, time and talents.  Monetary and in-kind donations provide necessary supplies to keep the shelter open. Volunteers can assist with childcare, transportation services, donation sorting, and various fundraising programs. Visit the shelter's website or call (314) 533-1313 to learn how you can help women and children end the cycle of domestic violence.
About Casey, Devoti & Brockland
Casey, Devoti & Brockland is a St. Louis-based law firm focused exclusively on personal injury litigation.  Since 1983, our attorneys have helped injured people navigate the road to recovery by securing compensation for pain and suffering, medical expenses and lost wages.  Together Partners Matt Casey, Matt Devoti and Anne Brockland have nearly 50 years of trial experience handling the following personal injury matters:  motor vehicle accidents, medical malpractice, birth injuries, product liability, premises liability, Workers' Compensation and wrongful death.  We proudly serve clients throughout metropolitan St. Louis, southeastern Missouri and southern Illinois.
Our highly accessible attorneys deliver the perfect balance of aggressive legal representation, compassion and personal service.   If you or a loved one have been injured by the negligence of another, call the office today for a free, no-obligation consultation: (314) 421-0763.