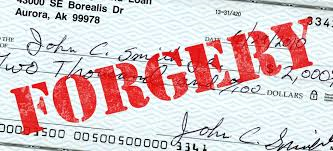 A recent article in the St. Louis Post-Dispatch highlights the very real and growing problem of elder financial abuse.
A St. Louis couple was arrested for forging checks stolen from an elderly Alzheimer's patient, who had hired them to do household chores.  It is believed the couple was using the money to feed their heroin addiction.  When the couple was spotted passed out in a parked car, police found drug paraphernalia and several of the victim's checks inside the car.  After further investigation, police found that several checks had been cashed at area banks with the victim's name misspelled.
Elder financial abuse involving family, caregivers and others in trusted positions swindle $6.67 billion every year from vulnerable seniors.
What is elder financial exploitation?
Elder financial abuse spans a broad spectrum of conduct, including:
Taking money or property.
Forging an older person's signature.
Getting an older person to sign a deed, will, or power of attorney through deception, coercion, or undue influence.
Why are the elderly attractive targets?
Persons over the age of 50 control over 70% of the nation's wealth.
Many seniors do not realize the value of their assets (particularly homes that have appreciated markedly).
The elderly are likely to have disabilities that make them dependent on others for help. These "helpers" may have access to homes and assets, and may exercise significant influence over the older person.
They may have predictable patterns (e.g. because older people are likely to receive monthly checks, abusers can predict when an older people will have money on hand or need to go to the bank).
Severely impaired individuals are also less likely to take action against their abusers as a result of illness or embarrassment.
Abusers may assume that frail victims will not survive long enough to follow through on legal interventions, or that they will not make convincing witnesses.
Some older people are unsophisticated about financial matters.
Advances in technology have made managing finances more complicated.
Any number of people can be involved in elder financial abuse. It may be a disgruntled family member, an unscrupulous caregiver, or a nefarious financial advisor. No matter who is perpetrating the crime, it is a good idea to be aware of the various scams so you can watch for red flags.
Possible elder financial abuse scenarios:
Misuse an elder's personal checks, credit cards, or accounts
Steal cash, income checks, or household goods
Forge the elder's signature
Engage in identity theft
Engage in questionable investment opportunities
Overcharge for services or product
Use deceptive business practices
Use their position of trust and respect to gain compliance
Coerce an elder into adding him/her to important estate planning instruments, such as wills, power of attorneys and trust
Casey & Devoti is a St. Louis-based personal injury firm.  Our partners, Matt Casey and Matt Devoti, are seasoned litigators who together have over 40 years of trial experience.  They specialize in personal injury matters, such as:  car, truck and train accidents, victims of impaired/distracted driving, medical malpractice, birth injuries, product and premises liability, elder care and sexual abuse, Workers' Compensation, and wrongful death.  Matt and Matt are also authorized speakers for EndDD.org's 'End Distracted Driving' Awareness Campaign.  If you or a loved one has been injured by the negligence of another, call today for a free consultation:  (314) 421-0763.