Over the years a backyard deck plays host to countless summer barbecues, dinner parties, celebrations and the like. No one thinks this idyllic setting could pose a safety hazard.  But the reality is home decks can collapse causing serious injury or death.
According to the North American Deck and Railing Association (NADRA), deck failures have increased at an alarming rate. Between 2000 and 2008, there were at least 30 reported deaths from deck failures.  Additionally, NADRA estimates there are over 40,000 decks that are more than 20 years old – making the existing deck inventory increasingly unsafe.
After several years of tracking deck collapse data, researchers at Virginia Tech noted the primary cause of deck collapses (upwards of 90%) was the connection of the deck ledger to the house made with nails only.  The standard deck building guidelines have been updated in recent years to require bolts – not just nails or screws – to secure the deck ledger to the house.  However, older decks may not comply with these new standards – thus posing a major safety hazard.
Over time, weathering, corrosion, moisture and the weight of occupants puts stress on the nails used to attach the deck to the house. When a deck collapses, the weight of occupants standing on top of the deck causes it to literally pull away from the house, in turn the deck flips and pins people under the collapsed decking material.  Serious injuries such as broken bones, neck and spinal cord injuries, head trauma, paralysis and even death have been reported.
Before hosting your next backyard bash, have your home's deck inspected to ensure the safety of your family and friends. The NADRA suggests inspecting these 5 main areas of your deck:
● Split or decaying wood
Using a pointed tool like an ice pick or screwdriver, probe several areas of your deck. These should include the ledger board (where the deck attaches to the house), support posts, decking boards, and railings. NADRA's rule of thumb is that if your probe easily penetrates the wood a quarter- to a half-inch without splintering the wood, decay may be present.
● Flashing
Deck flashing is most critical at the point where the deck attaches to the house. At this location you should see a continuous piece of metal between the deck and house. This connection of the deck to the house is the most common area of deck failure. The purpose of the flashing is to divert moisture and debris away from this connection. If your deck is not flashed at its attachment to the house, consider having flashing installed by a qualified general contractor.
● Loose or corroded fasteners
Fasteners on decks include nails, screws, bolts, or anchors. In your inspection insure that all screws and bolts are tight and any nail heads that have popped up should be nailed back into place. Again, the most important area is the connection of the deck's ledger board to the house. You should see this connection being secured with bolts, not just nails or screws.
● Railings and banisters
Three components ensure a safe railing: stability, spaces between the rail components, and rail height. To check your railings, keep these code parameters in mind. The rail should be able to withstand a 200-pound force at any point along its top; the spaces in the deck railings should not allow the passage of a 4-inch ball (less than 4 inches); and the deck rail should be a minimum of 36 inches high.
● Stairs
As with the deck rail, make sure the deck stair rail is stable. Check the connection of the deck stair to the deck. Look for loose wood on the steps or risers that may create a trip hazard. If the step riser (vertical part of step) is open, the opening should be less than 4 inches. As you climb the steps, move your weight from side to side to ensure that the stairs are stable. Finally, make sure the stairs are clear of planters, toys or any other objects that could be a trip hazard.
It's important to note that deck building codes vary greatly by state. Each state, city and municipality will have its own set of rules, guidelines and codes for existing and new decks. Always consult with your city's code enforcement officer before building a new deck or making repairs to an existing deck.
The NADRA website offers additional deck safety tips and maintenance advice for consumers, including a detailed 10-point inspection checklist. If you aren't comfortable performing a deck inspection yourself, the NADRA website has a state by state directory of home inspectors who are also NADRA inspection/evaluation certified.
If you are in the market to purchase a house with a deck, make sure your home inspector performs a thorough inspection of the existing deck. And finally, if you are thinking about installing a new deck or making repairs to an existing deck, check the NADRA site for guidelines and a link to find professional deck installers in your state.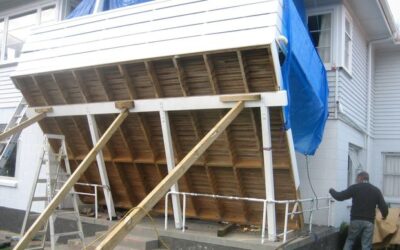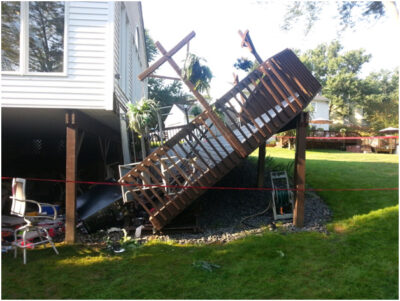 Casey & Devoti is a St. Louis-based personal injury law firm. Together Partners Matt Casey and Matt Devoti have nearly 40 years of trial experience.  They handle a variety of personal injury matters, including:  car, truck and train accidents, victims of impaired and distracted driving, medical malpractice and birth injuries, product liability, slips/trips/falls, elder care and sexual abuse, Workers' Compensation, and wrongful death.  Matt and Matt proudly serve clients throughout metropolitan St. Louis, southeastern Missouri and southern Illinois.  If you or a loved one have been injured by the negligence of another, call the office today for a free, no-obligation consultation:  (314) 421-0763.