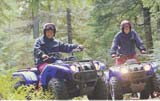 Over the weekend, a woman was killed in an ATV accident in Franklin, County. She was a passenger on an ATV when it veered off the right side of the road causing the driver to overcorrect and run off the left side of the road, hitting a tree.
Even though the number of annual ATV-related accidents is trending downward, it is still important to review ATV safety procedures.  This is especially true because a lot of injuries and fatalities affect children under the age of 16.
The ATV Safety Institute offers these tips for a fun and safe experience:
Always wear a DOT compliant helmet, googles, long sleeve shirt and pants, over the ankle boots and gloves. While, ATV helmet requirements vary widely by state – for maximum safety all riders should always wear a helmet.
Never ride under the influence of alcohol and drugs.
Ride at a safe speed only on designated ATV trails. Do not drive ATVs on paved roads. While ATVs can reach highway speeds, their low tire pressure and high rollover risk make them extremely dangerous to operate on paved roads.  In fact, most ATV fatalities occur on paved roads.
Never carry a passenger on a single-rider ATV, and no more than one passenger for an ATV built for 2 riders.
Ride an ATV that's right for your age. Supervise riders under 16 – ATVs are not toys.  Remember that one size does not fit all. In fact, there are 5 different categories of ATVs. If you allow your kids to ride, learn about state age and safety requirements and how to properly size an ATV. It's worth noting, due to physical and intellectual maturity levels, the American Academy of Pediatrics warns parents that no child under the age of 16 should operate an ATV.
Take a hands-on ATV Rider course and the free online E-course. Any person who wants to operate an ATV should take a hands-on ATV safety course to learn proper riding techniques, trail etiquette, paved road rules, care and maintenance, and proper towing procedures.
To learn more about ATV safety call (800) 887-2887 or go to www.atvsafety.org.
Casey & Devoti is a St. Louis-based personal injury law firm. Together Partners Matt Casey and Matt Devoti have nearly 40 years of trial experience.  They handle a variety of personal injury matters, including:  car, truck and train accidents, victims of impaired and distracted driving, medical malpractice and birth injuries, product liability, slips/trips/falls, elder care and sexual abuse, Workers' Compensation, and wrongful death.  Matt and Matt proudly serve clients throughout metropolitan St. Louis, southeastern Missouri and southern Illinois.  If you or a loved one have been injured by the negligence of another, call the office today for a free, no-obligation consultation:  (314) 421-0763.