The attorneys at Casey, Devoti & Brockland are proud to be authorized speakers for the nationally recognized 'End Distracted Driving' program.  Each year, they provide these powerful presentations at no-charge to educate drivers on the dangers of distracted driving.
Since 2015, they have delivered this important safety message to over 5,000 high school students and over 500 adults throughout St. Louis and southeastern Missouri.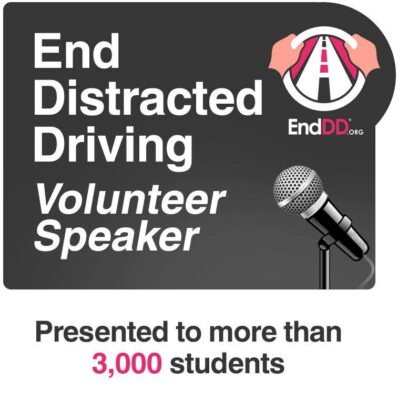 Do you know a student or corporate group that would benefit from a FREE 'End Distracted Driving' presentation?
Casey, Devoti & Brockland is currently booking presentations for Spring 2020.
For more information or to book a presentation:
Call (314) 421-0763
Email lmv@caseydevoti.com
According to the National Highway Traffic Safety  Administration and the AAA Foundation for Traffic Safety:
In 2015 – 3,477 people killed and 391,000 injured in crashes involving distracted driving 
The fatal crash rate for teens is 3 times greater than for drivers age 20 and over
Driver distraction is responsible for more than 58% of teen crashes
Adults are just as likely as teens to drive distracted
Teens who see a parent driving distracted are 2-4 times as likely to also drive distracted 
Distracted driving crashes are grossly under-reported
Here's what Partner Matt Devoti has to say about the 'End Distracted Driving' program:
"Distracted driving is a huge problem for people of all ages – not just teens.  We want people to be aware of the consequences whether it's them, their relative or their friend who is driving distracted. The presentation offers eye-opening insight and concrete solutions to the problem that they can implement right away."
Watch Partner Matt Devoti speak to KOMU-TV in Columbia, Missouri – during a March 2018 presentation at Stephens College.
Schools and organizations we've visited:
St. Mary's High School
Bishop DuBourg High School
St. John Vianney High School
John F. Kennedy High School
SCOPE School/Mehville School District
Ste. Genevieve High School
Bismarck High School
Perryville High School
Cor Jesu Academy
Ursuline Academy
Notre Dame High School
Stephens College
Nortek Global HVAC
Learn More About EndDD.org
EndDD.org (End Distracted Driving) was established to raise awareness and generate action against the epidemic of distracted driving. It was created by Joel Feldman and Dianne Anderson after the death of their daughter, Casey Feldman, in 2009. Casey was just 21 years old when, as a pedestrian, she was hit and killed by a distracted driver. Learn more about the organization and preview the presentation here.