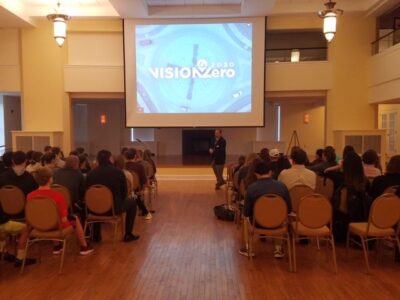 Earlier this month, St. Louis personal injury attorney, Matt Devoti, spoke to a crowd of over 200 at Stephens College in Columbia, Missouri about the dangers of distracted driving.  The need for public awareness and education about distracted driving is high, which is why local NBC-affiliate, KOMU, was on-hand to cover the event.
"It really goes beyond just texting and driving but any kind of activity that takes your mind off the primary purpose of driving your car," Devoti said during his interview with KOMU.  Watch the entire segment here.
Devoti, who is an authorized speaker for EndDD.org's 'End Distracted Driving' Program, was invited to speak at the college by Ken Hammond, Stephens College Director of Safety and Security, as part of their Transportation Safety Week. Hammond said the school wants to make sure students are reminded to take safety precautions before they head off for spring break. 
"We're hoping to expose them to the dangers of distracted driving and to bring home that it only takes a very short moment to really alter a person's life," Hammond said.
In 2016–the most recent year available–the National Highway Traffic Safety Administration reports:
• 9 percent of fatal crashes were caused by distracted driving
• 3,450 people were killed in crashes involving distracted driving
• 9 percent of distracted drivers are between the ages of 15 and 19
• 486 people died in crashes involving cell-phone related activities
Matt Devoti is a partner with Casey, Devoti & Brockland, a St. Louis-based personal injury law firm. He described the different cases in which he was involved where someone was injured or killed by a distracted driver. The presentation emphasized that everyone is guilty of driving distracted. He not only illustrated the devastating consequences of driving distracted, but also offered strategies for drivers to help themselves and others end distracted driving. 
"Distracted driving is a huge problem for people of all ages – not just teens. That is the message we want to get across to these young drivers," said Matt Devoti. "We want them to be aware of the consequences whether it's them, their parent or their friend who is driving distracted. The presentation offers eye-opening insight and concrete solutions to the problem that they can implement right away."
EndDD.org (End Distracted Driving) was established to raise awareness and generate action against the epidemic of distracted driving. It was created by Joel Feldman and Dianne Anderson after the death of their daughter, Casey Feldman, in 2009. Casey was just 21 years old when, as a pedestrian, she was hit and killed by a distracted driver. Learn more about the organization and preview the presentation here.
The Casey, Devoti & Brockland attorneys are thrilled to be part of the EndDD.org national speaker network. Since 2014, they have delivered the presentation to over 5,000 people throughout Missouri. The firm is currently booking presentations for the spring and fall 2019. For more information, contact Lara Vitiello at (314) 409-0996 or lmv@caseydevoti.com.
Casey, Devoti & Brockland is a St. Louis-based law firm focused exclusively on personal injury law. Since 1983, our attorneys have helped injured people navigate the road to recover by securing compensation for pain and suffering, medical expenses and lost wages. Together Partners Matt Casey, Matt Devoti and Anne Brockland have nearly 50 years of trial experience handling the following personal injury matters: car, truck and train crashes, victims of impaired and distracted driving, medical malpractice, birth injuries, product liability, premises liability, elder and sexual abuse, Workers' Compensation and wrongful death. We proudly serve clients throughout metropolitan St. Louis, southeastern Missouri and southern Illinois.