Tips for a Scary-Safe Halloween!
Happy Halloween from everyone at Casey Devoti & Brockland! This year's celebration may look a little different, but that doesn't mean your family has to miss out on all the fun. With a little planning and creative thinking, you can enjoy the holiday while keeping your family safe. To help you out, we've put together some tips on how to celebrate Halloween during the pandemic.
Know the Guidelines
First and foremost, we advise everyone to follow the Centers for Disease Control and Prevention's guidelines, which includes information on public gatherings, social distancing and mask wearing. You should also know that both St. Louis County and St. Charles County have deemed indoor haunted houses, large indoor and outdoor activities, and traditional trick-or-treating as high-risk activities. They are instead asking residents to get creative and find new ways to celebrate that follow public health guidelines.
How to Prepare for Trick-or-Treaters
Make individual goodie bags filled with fun-size candy and trinkets. Be sure to wash your hands with warm water and soap for 20 minutes before and after.
Make signs for your yard encouraging trick-or-treaters and their chaperones to stay six feet apart — even better if you use Halloween puns!
Get your neighborhood on board with socially distanced candy delivery options, like self-serve tables at the end of driveway, or a no-contact candy delivery system built from a decorated PVC pipe.
Organize a neighborhood contest and award prizes for the most creative delivery method or best decorated candy table.
How to Trick-or-Treat Safely
Carry a bag with hand sanitizer, disinfectant wipes and extra face masks. Encourage your kids to sanitize their hands after each house.
Remember: costume masks are not a substitute for a face mask, unless it has two or more layers of breathable cloth that covers the mouth and nose and doesn't leave gaps around the face.
Costume masks should not be worn over a cloth face mask, as it could become difficult to breathe. Instead, consider wearing a Halloween-themed cloth face mask.
Do periodic "mask checks" by stopping in a safe place to make sure everyone's masks are covering their mouths and noses.
Keep a six-foot distance from other groups of trick-or-treaters. If another group is at a house, wait until they're finished before you approach.
Encourage your kids not to scream, as this spreads the virus into wider areas. If they can't help screaming (either out of fear or delight!), try to leave a bigger space between your group and others.
When You Get Home
Wash your hands with warm water and soap for 20 seconds.
Sanitize the candy wrappers or leave the candy out for 24 hours before handling
Throw away any candy that's open, torn, or looks unusual (such as pinholes in the wrapper). Toss any homemade items made by people you don't know. When in doubt, throw it out.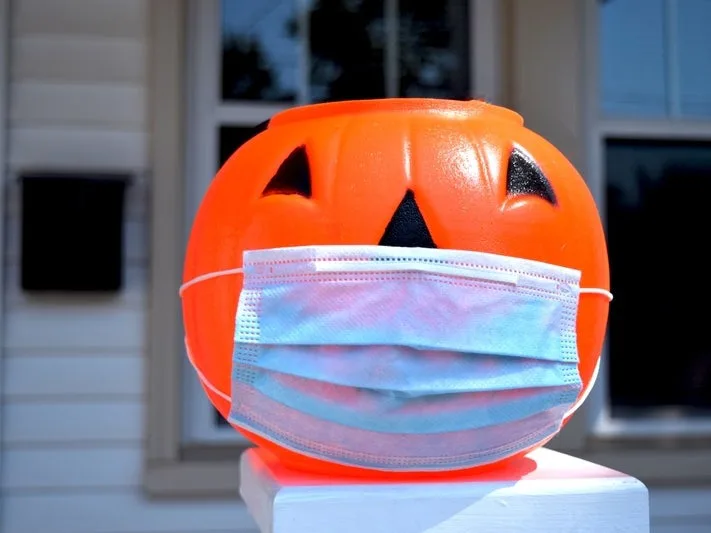 Staying Home to Hand Out Treats?
Brainstorm creative ways to make candy distribution a hands-free experience for you and your trick-or-treaters. Here's an idea: place wrapped treats on your lawn or driveway in the shape of a pumpkin. That way, trick-or-treaters don't have to crowd around your front door, touch your handrails or knock on your door.
Wear a face mask any time you're outside and wash your hands often.
Consider keeping a large bottle of hand sanitizer nearby for kids and parents to use.
Other Ways to Celebrate
If you have a pre-existing condition, or simply don't feel comfortable attending Halloween activities this year, there are several ways you can join the fun.
Organize a virtual costume parade, so elderly neighbors can still see the kids in their costumes.
Carve or decorate pumpkins with your family.
Organize a Halloween house decorating contest and host a drive-thru parade to view the decorations.
Host a Halloween-themed scavenger hunt, a photo scavenger hunt, candy hunt or scary movie night with your immediate family.
Stay Home, Stay Safe
Remember, for the safety of others, you should not attend any Halloween events if you:
Have been diagnosed with COVID-19 and have not met the CDC's quarantine recommendations
Are showing symptoms of COVID-19
Are waiting for a COVID-19 viral test result
May have been exposed to someone with COVID-19 in the last 14 days
Are at increased risk for severe illness from COVID-19
We hope you and your family enjoy a fun and safe Halloween!
Additional Resources
The National Safety Council and Mars Wrigley have partnered to promote safe 2020 Halloween activities during the pandemic.  Learn more NSC Halloween safety tips and download the Mars Wrigely Treat Town App – an interactive, inclusive Halloween experience that's fun for the whole family.