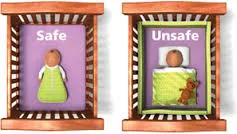 A Washington University School of Medicine physician has been warning parents of the dangers of crib bumpers for eight years.  Dr. Bradley Thach first published his research study in 2007; at the time he was able to attribute  27 deaths to crib bumpers from 1985-2005.  Yet, over the past eight years the demand for these products has remained high.
Frustrated by the lack of acknowledgement from consumers, manufacturers and retailers, Dr. Thach and two others have published another more damning article in the Journal of Pediatrics arguing that crib bumpers are even more dangerous than any other common items found in cribs such as stuffed animals or blankets.  The new study found 77 deaths attributed to crib bumpers from 1985-2007 and calls for a nationwide ban of the crib product.
The study doesn't necessarily mean more babies are dying from crib bumpers, but rather the reporting of each incident is more accurate than it has been in the past.  In the past, many infant deaths were ruled Sudden Infant Death Syndrome (SIDS) because there was no other plausible explanation.  However, more medical examiners are now using sleep scene re-enactment to better describe the position of the baby and if the nose or mouth were enveloped by the crib bumpers.  But even with improved forensics, it's likely deaths from crib bumpers are still underreported.
The authors of the latest study are hoping the Consumer Product Safety Commission will step in and ban the sale of these dangerous items.  Read more about the latest study and what you can do to keep a baby safe in a crib.