Partner Matt Casey recently attended The Injury Board's annual marketing conference in Denver called Radius of Influence 2015 (ROI2015).  While at this year's conference, Matt along with other conference attendees and their guests spent an afternoon rejuvenating a Denver neighborhood park.
The community service component of the conference was organized by The Injury Board and ROI2015 staff, which partnered with the Denver Parks and Recreation Department.  On May 2, volunteers traveled to Martinez Park, located in the Villa Park neighborhood in West Denver.
During the event, volunteers were divided into groups that helped plant 18 new trees throughout the park, picked up debris throughout the park and in the stream next to the park, and also put a fresh coat of paint on everything painted emerald green — benches and picnic tables, the baseball diamond backstop, park signs, playground equipment, the bridge walkway of the river, railings, trash cans and much more.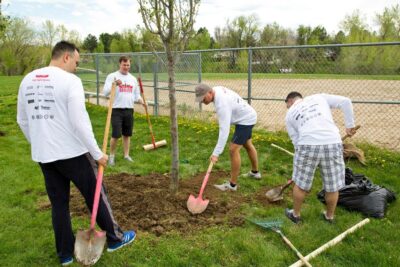 At the end of the day, the ROI2015 volunteers were able to complete approximately two weeks' worth of work in just under two hours.
"There's no better feeling than making a big difference for some people who truly need it," said Stephanie Andre, ROI2015 conference director. "We could not be prouder of our IB members and ROI attendees and the work they put in time and time again through our community service projects and initiatives. This is just another example of what sets them apart from the pack — and why they are difference makers in their own local communities."
The Injury Board is a professional association of like-minded attorneys working to improve their communities while growing their practices through word-of-mouth marketing. They recruit member attorneys based on their proven commitment to the four key areas we believe define the best of our profession — Relationships, Leadership, Community and Results.  Casey & Devoti has been a proud member of The Injury Board   since 2011.