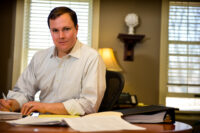 The partners at Casey & Devoti recently started a legal blog called The Eastern Missouri Legal Examiner.  This informative site delves further into the legal aspects surrounding Eastern Missouri personal injury cases.
The blog posts will cover the legal issues of a variety of personal injury scenarios, including car and truck crashes, Workers' Compensation, medical and legal malpractice, elder abuse and wrongful death.
Each partner will also delve deeper into a specific area of personal injury law.  Matt Casey will focus on labor/delivery errors and birth injuries.  And, Matt  Devoti will focus on drunk driving crashes.
With over 30 years of experience handling personal injury cases, the attorneys at Casey & Devoti know how to navigate the pitfalls, twists and turns that come with identifying, preparing and trying these types of complex cases in the state of Missouri.
Through the Eastern Missouri Legal Examiner site, Matt and Matt aim to pass along some of their vast legal knowledge – so that victims of personal injury can educate themselves and make informed decisions regarding their next step in the healing process.
Matt Casey and Matt Devoti are partners with Casey & Devoti, a St. Louis-based personal injury law firm serving the metropolitan St. Louis area, southeastern Missouri and southern Illinois.